Unlike conventional aerosols, the propellant does not mix with the product when two-chamber pressure cans are used.
Needless to say, this fact also has an effect on the spraying and application behaviour of the active agent and will therefore have to be taken into account when choosing the diameter and/or the nozzle.
Usually, the traditional spray heads available on the market can be used, provided they match the selected valve. For sprays, the viscosity of the active agent is of crucial importance because, unlike aerosols, the active agent is not diluted any further by the propellant in this case. The product is applied in its pure form.


Please note: The actuators shown are not for individual sale but merely an option to accessorize your can.
Plate-covering spray head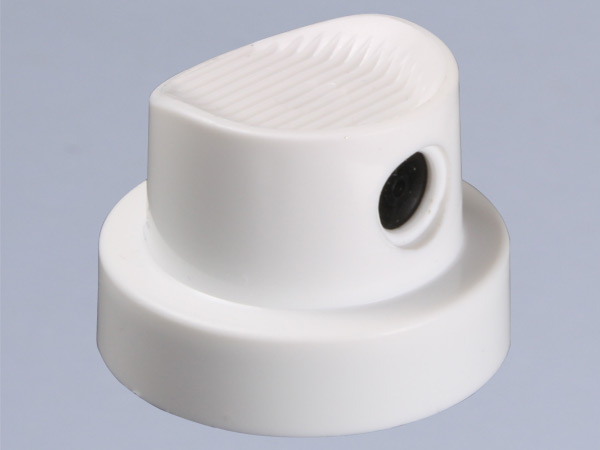 For spray
These spray heads visually cover the valve plate, creating a harmonious overall impression. They can preferentially be combined in white as the standard colour with all commonly used types of nozzles (e.g. vortex, CO2, micro, etc.), various nozzle diameters and with the manufacturer's respective valves, and are suitable for use in two-chamber pressure cans.

Preferably for use with fluid materials that are to be applied as a spray.
Spray head with capillary tube
For stream or targeted application
These spray heads visually cover the valve plate and have a pleasantly large finger surface, allowing the active agent to be applied precisely and specifically.

White and red are the standard colours, and the length of the respective capillary tube can be adapted to the product requirement. The capillary tube is easy to remove from and inserted back into the spray head so that two fields of application can be covered.

Preferably for use with fluid materials, but also oils and thin pastes.

Mounting example for an additional spray head.
Gel head/foam head
For specific application of viscous media
These spray heads visually cover and span the valve plate completely and, in combination with the small lid, are simultaneously used as protective valve caps. They can of course also be combined with an overlapping cap.

White is the standard colour. A capillary tube can be inserted.

This capillary tube is easy to remove from and inserted back into the foam head so that two fields of application can be covered.

Preferably for use with oils and thin pastes that are to be applied specifically.
Example with 20 mm capillary tube inserted