The basic principle of any two-chamber pressure can is the strict separation of active agent and propellant.
Both piston systems and various bag systems are occasionally used in this purpose.
With respect to bag systems, we primarily differentiate between:

Plastic inner bag
Laminate foil bag (also bag on valve)
Aluminium inner bag (also can in can)
Aluminium bag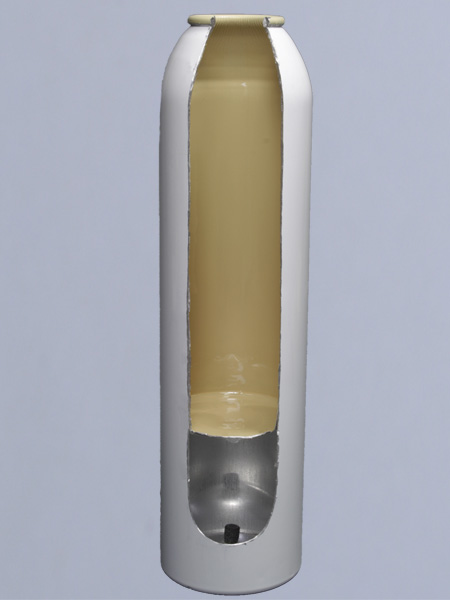 The aluminium inner bag provides the best diffusion barriers of all two-chamber pressure cans. Even agents that have been packaged for several years will remain safely packaged.
The maximum filling quantity for aluminium bag systems is currently 280 ml with a can size of 50 (mm diameter) x 201 (mm total height)
Maximum test pressure up to 18 bar
Protective coating inside the bag
based on epoxy phenol or PAM; special
coating on request
compatibility tests recommended
Basic external coating
Opaque coating (white or coloured) or glazed (colourless or coloured)
pearlescent effect possible
Printing
Standard: Glossy white or in 1 to 6 colours, solid or screen
Overlacquering
Glossy, semi-matt or matt, groove-texture paint possible
Polyethylene bag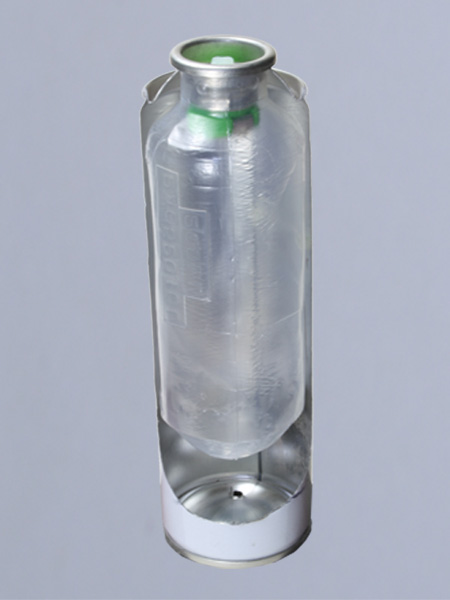 The polyethylene (PE) foil bag is the all-rounder among the various bag versions. By using PE material, we are using a synthetic material with properties that are very compatible with chemicals.

It is highly flexible, thus ensuring that residual contents can be emptied completely.

This bag version is produced in-house on a blow-moulding unit in many lengths and dimensions to cover almost the entire range of can sizes. (see the corresponding table)

Due to the physicochemical properties of the plastic, a weak diffusion barrier is formed. Thus, agents that should not come in contact with air should not be filled using this system. For design reasons, this bag is used only in conjunction with tin plate cans.

All 1" valve/spray head combinations available on the market can be used. The valves do not require a feed tube.

We use only compressed air as a propellant.
Laminate foil bag
The laminate foil bag combines high flexibility of material with a very high diffusion barrier. This is a 4-layer composite material welded onto the body of the valve in a special welding process.
These systems are also known as "bag on valve" systems in the market and are usually filled through the can valve.
For design reasons, they are used primarily to accommodate liquid products. Three bag sizes and/or filling quantities are available for use with Pageris ® adapters.
See the corresponding table
Filling quantities & can sizes
.